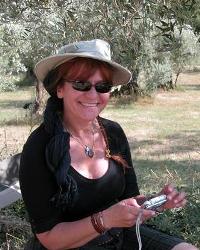 ABOUT
In 1999, she received a Diploma from State Fine Arts High School of Paris.
She produces nude, landscape and abstract works by using drawing pencil, watercolor, pastel and oil painting techniques.
Since 2004, she organizes summer courses in several regions of France (Provence, Bretagne, Paris).
She's the member of AIAP(International Association of Plastic Arts).
She has a lot of national and international exhibitions both personal and as well as a member of the organizations.
Her two works named as 'CAGE' and 'LOVE' were printed with the other 20 Master Painters by the support of the Who's Who Art organisation, after her success in two exhibitions at the galleries "Mouvans" and "Château d'Auvers"-Paris.
She got a Bronze Medal in competition named as Concours International 2010 'Art Moderne and Contemporain'.
She become a member of "Société des Artistes Indépendants" in behalf of Grand Palais- Paris in 2010.
She represents our country by Whirling Dervish themes that is one of the greatest values of Turkey and she'got this Medal, by one of her paintings based on this idea.
2011 Silver Medal in competiton named as Concours International 2011 "Fédération Nationale de la Culture Française"
2011 Bronze Medal in competiton named as "Grand Prix des Distinctions Françaises et Etrangeres" as "Talents Prometteurs", 2011
Since 2011 she participates the "street festival" in Carpentras, which organised by the association "Les Papillons de Carpentras" in southern France.
She became "European Community Artist 2012" by the "Fédération Nationale de la Culture Française".
Between 8 March 2012 and 05 May 2014, he wrote "Art Corner" on the portal www.bizimizmir.net.